Equine Osteopathy
Active Equine Osteopathy offers a drug-free osteopathic service for your horse. Every approach is unique and the focus is on the whole horse.
Our Osteopath, Alys Bailey, has worked with horses and riders for many years. She has ridden from a young age and has lots of experience schooling and competing with different horses and ponies to training and breaking young horses.
Alys qualified as a riding instructor over fifteen years ago and teaches riders of all levels, as well as helping pupils to do their A.I. (Assistant Instructor) certificate.
Working closely with your vet will help to establish an effective treatment protocol for your horse.
There is no need to stop any medication that has been prescribed for your horse.
Active Equine Osteopathy can treat all breeds and disciplines of horses and ponies, from first ponies, through to happy hackers and hard working competition horses.
First Visit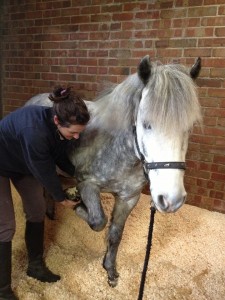 On the first visit, we will require a full medical history of your horse – any previous injuries or operations, and the treatment provided. We will also want to know if your horse is currently undergoing any other medical treatment or is taking any medication. We will then want to assess the movement of your horse at walk and trot before conducting a full osteopathic examination. Lunging or ridden assessments can also be shown.
Once back in the stable the horse will then be assessed for flexibility, mobility, points of tension, unusual heat patterns, or lack of movement in any of the joints. We will explain the issues that are found and also explain the treatment planned for your horse. Your consent is gained before any treatment takes place.
All Equine Osteopaths use their hands and eyes to identify and help with issues within the equine structure and function. Treatment may include a variety of stretches, joint mobilisation and manipulative techniques.
If you are not sure if Active Equine Osteopathy can help your horse, you are welcome to call us about your concerns before booking an appointment. You will need to consult your vet first and gain consent for Osteopathy treatment before booking an appointment with us. Please see our Fees and Contact pages.
Riders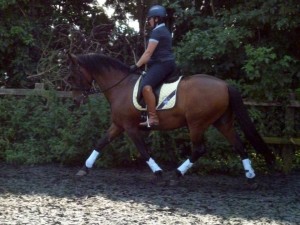 Sometimes the problem stems from or can be made worse by the rider! Having a treatment yourself and having a postural assessment may help your imbalances as well as help to rebalance the horse. A horse's stiffness on one particular rein can sometimes be due to our own one-sidedness.
Once your imbalances have been established, rehabilitation work on the Pilates reformer has been popular for horse riders here at Active Life, whether you are a show jumper, dressage rider, happy hacker or eventer. It suits us all! See Pilates.