Acupuncture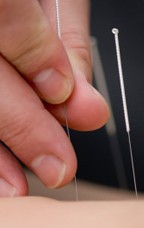 Acupuncture is a complementary therapy which works by inserting fine needles through the skin. These are left in position briefly, sometimes with manual or electrical stimulation. The number of needles varies but may be only two or three. The aim is to try and alleviate pain or help treat various health conditions by increasing the body's release of natural painkillers (endorphin and serotonin).
Acupuncture is slowly becoming a recognised option within standard healthcare and at Active Life Osteopathy we sometimes use acupuncture to help relieve a patient's pain. There is a growing body of evidence based clinical research that shows traditional acupuncture safely treats a whole range of different health problems, not just musculoskeletal ones.  This can be found at: http://www.acupuncture.org.uk
Currently, the National Institute for Health and Care Excellence (NICE) recommends acupuncture as a treatment option for chronic lower back pain, chronic tension headaches and migraines.
Our regulated acupuncturist Suzie Maddison is available every Wednesday and Thursday at the practice. Please check our Fees page and contact reception for availability.